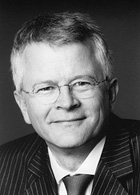 After finishing his degree in electrical engineering, he begins his career at Siemens AG in Munich. At its corporate research and development department, he works on innovative technologies which form the basis of Siemens AG's future business orientation. Simultaneously, he finishes another degree, this time in business administration, and after an intermediate step at Siemens AG's corporate planning and development department, he switches to the management consultancy of Roland Berger Strategy Consultants.
There, his principal tasks lie in the fields of strategy, marketing and sales. It is his job to assist renowned companies with their investment in new products and services and successfully establishing these in the market place. Amongst others, his clients include the leading utilities and mineral oil companies of the energy industry, but also companies with an emphasis on telecommunications and high-tec. In 1996, he was elected partner of the company, and from 2004 on, he heads one of its worldwide Competence Centers. Finally, he assumes international responsibility in Spain, Italy, Portugal and Brazil.
In 2009, he establishes Howaldt Energies. His mission is to entrepreneurially contribute to sustainably and profitably bringing about the final breakthrough of renewable energies.